If your avatar is compatible, you can click on the expression tab to toggle different facial expressions.
The expressions which can be set are the following six: "neutral", "joy", "angry", "sorrow", "fun", and "surprised".
If your avatar does not have expressions set, the expressions that are not available will be greyed out, and cannot be used.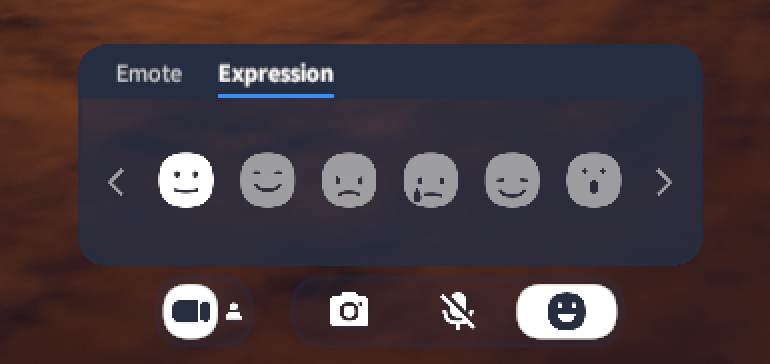 Desktop/Mobile
Choose the "Action" icon to the bottom right. This will display the emote and espression tabs

After selecting the expressions tab, pick an expression

When the expression has been selected, a progress bar will appear above the icon. After a set time, your expression will return to the neutral one

You can also return to the neutral expression before the time is up by manually selecting it
VR
For Oculus/VALVE INDEX Controller
Open the pie menu by pressing in on the joystick

Tilt your joystick once to the direction of the expression you would like to use

When the expression has been selected, a progress bar will appear above the icon. After a set time, your expression will return to the neutral one

You can also return to the neutral expression before the time is up by manually selecting it
For VIVE Controller
The expressions pie menu will open by pressing in on the trackpad

Direct the trackpad to the expression that you would like, and release it to select

When the expression has been selected, a progress bar will appear to the right, above the icon. After a set time, your expression will return to the neutral one

You can also return to the neutral expression before the time is up by manually selecting it