Check out this Creators Guide article for basic specifications and useful tools for cluster events!
1. Starting an Event Page Draft
Events in cluster can be created by anyone, free of charge. From the plus sign at the top right of the official cluster page, you can create a new event by clicking "Host Event" and entering an event name.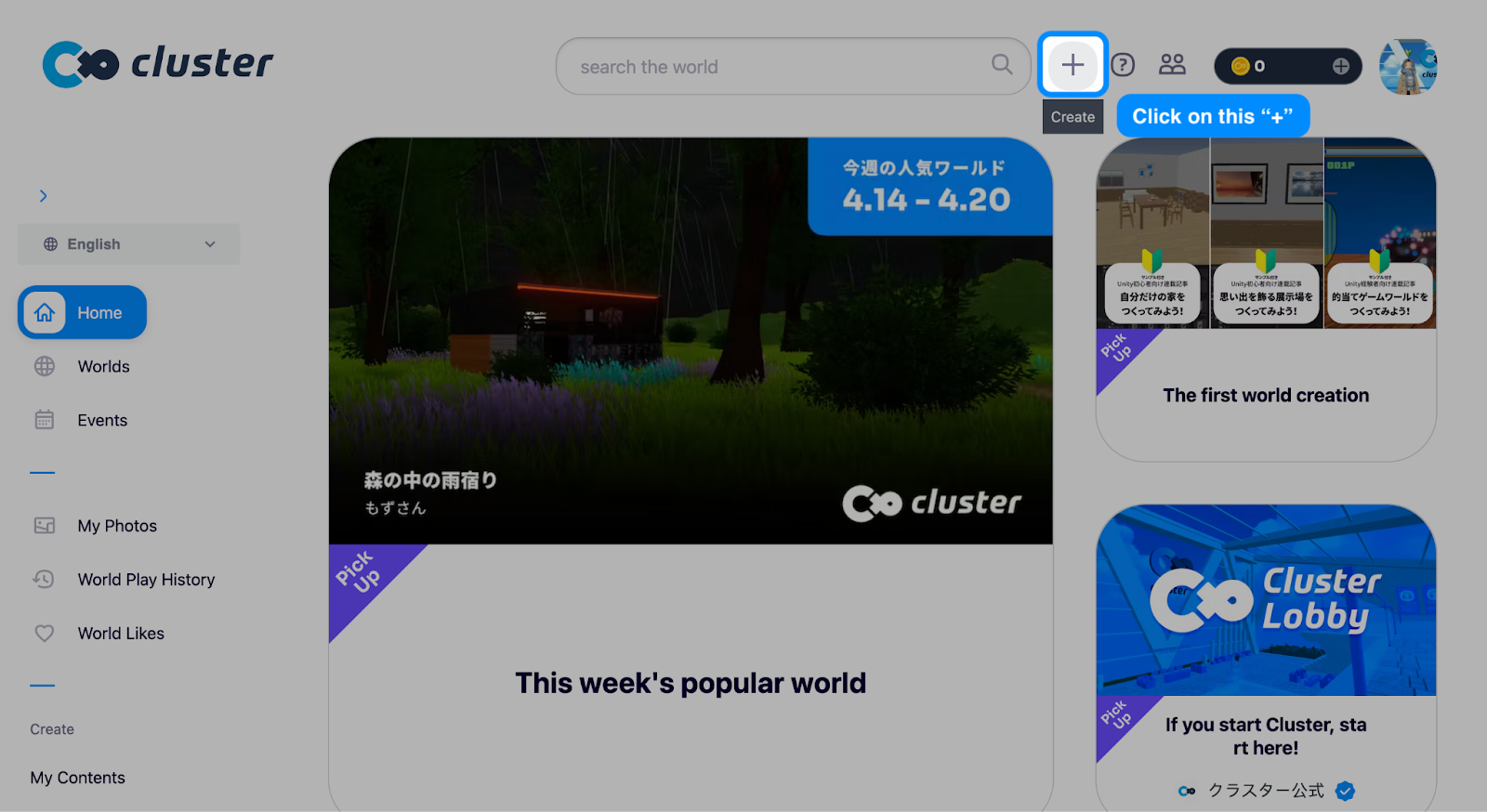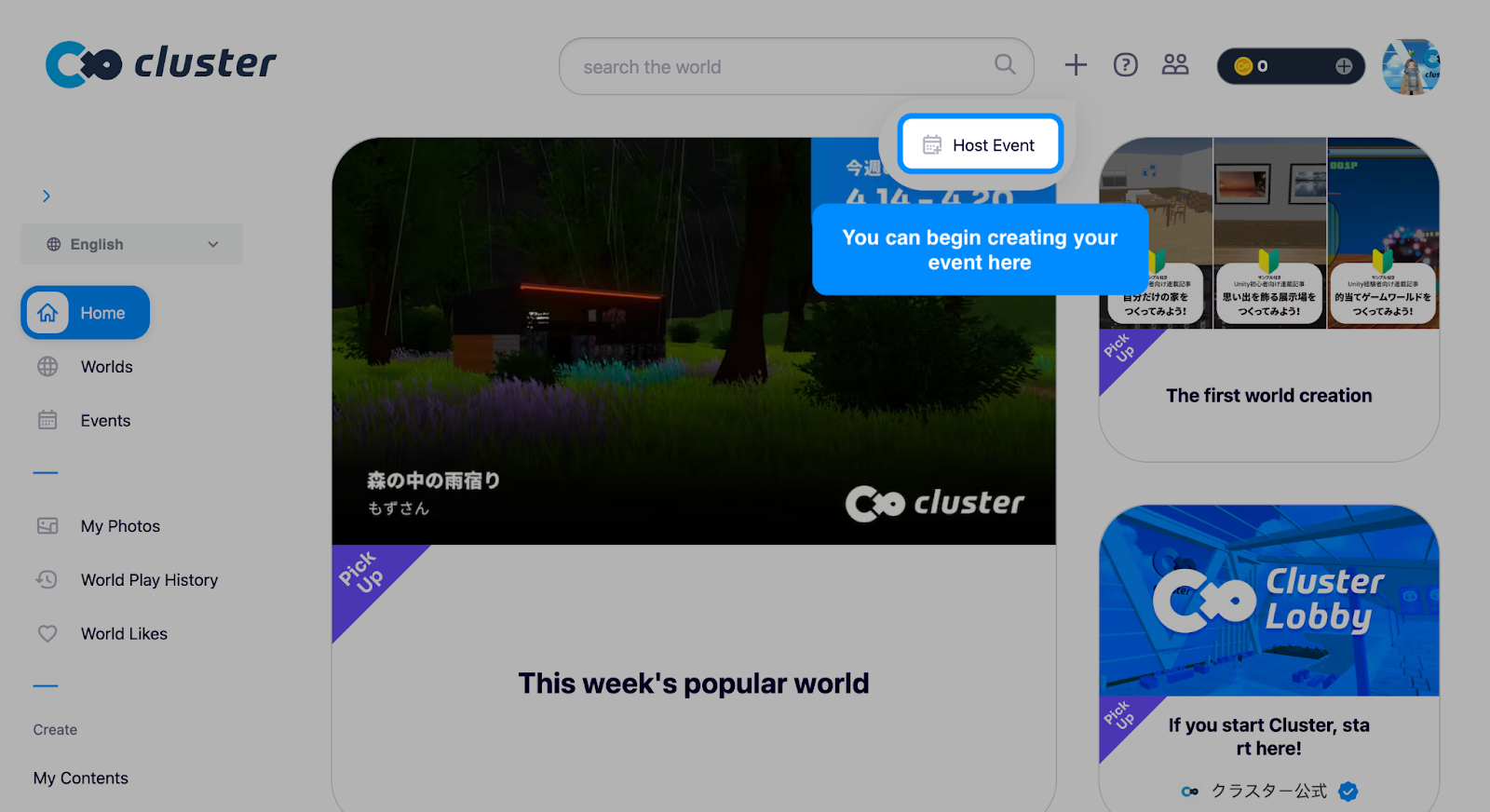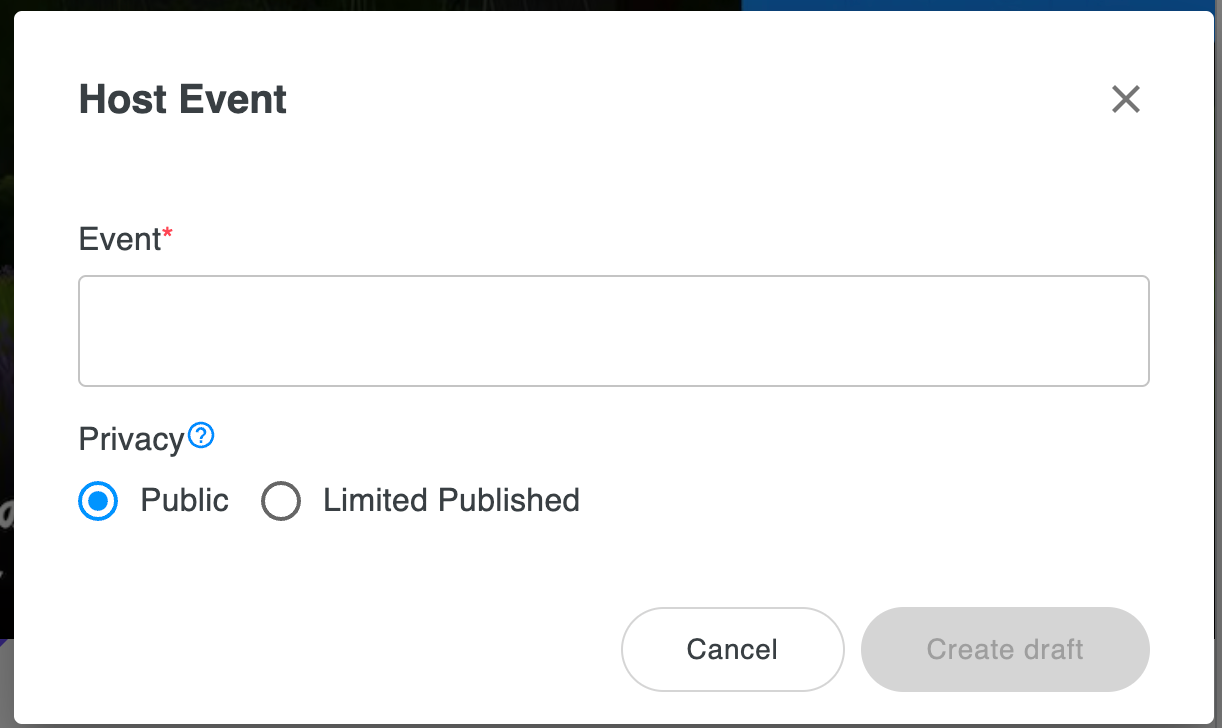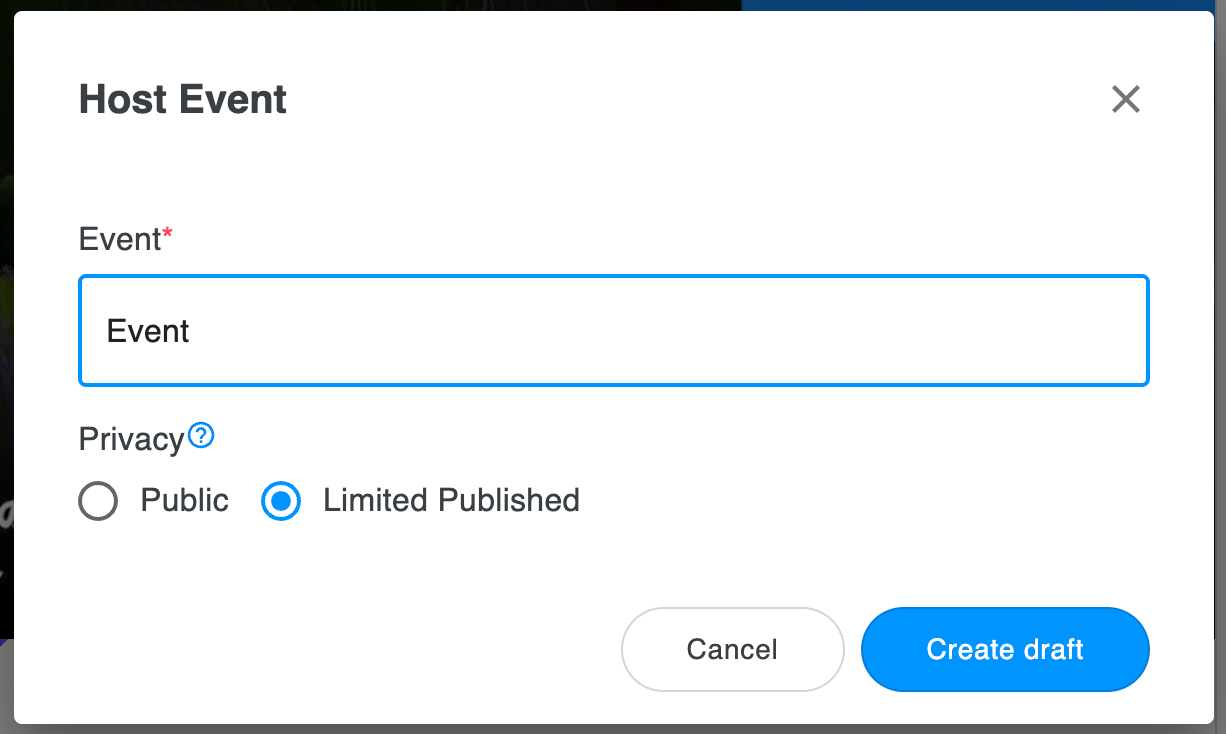 2. Creating the Event Page
In the event page draft, you can customize different settings for your event. Note: The minimum requirement for creating an event is the event name.
Limited Published: Choosing this setting will hide your event from the list of events on the cluster page. This type of event will only be accessible to those who have the event URL.
Event name: You can set the title of your event.
Overview: You can provide a brief description of your event.
Main image: here, you can set the thumbnail image for the event. There are no size specifications, but we recommend images of 16:9 ratio (e.g., 1920x1080 pixels).
When it is shown as a thumbnail, the top left and right parts of the image will be rounded off (radius 48 px). You do not need to round images off yourself.
Staff: In this section, you can manage staff members for this particular event. By inserting their user ID, you can grant staff permissions to other people collaborating with you in this event. (Specifics about Staff and administrator permissions)
Event description: Here, you can add more details on your event. In this description, you can also use markdown and paste images using the upper left icon.
Open date & time: The open date & time specifies from when the event will be accessible. The event venue can be used for 4 hours after the opening. We recommend that you open the venue 30 minutes to 1 hour before the event begins to allow participants leeway in their arrival time.
Twitter hashtags: You can set hashtags that will automatically be inserted if someone Tweets from the event. It is possible to set several different tags.
YouTube Live URL: If you set up a URL for a YouTube live stream in this section, you will be able to see comments from YouTube reflected in the comment board in Cluster during the event.
Event Venue: Select your desired event venue here. You can either pick from official Cluster venues, or ones creators have given permission to use (these will show up in the world search function in this section).
While there are various official Cluster venues, all of them will be equipped with screens where you can project images, PDFs, and videos, and a comment board to exchange comments.
Once you have finished entering the necessary information, click on "Save and Publish" (or "Save and Publish (Limited)") to create your event.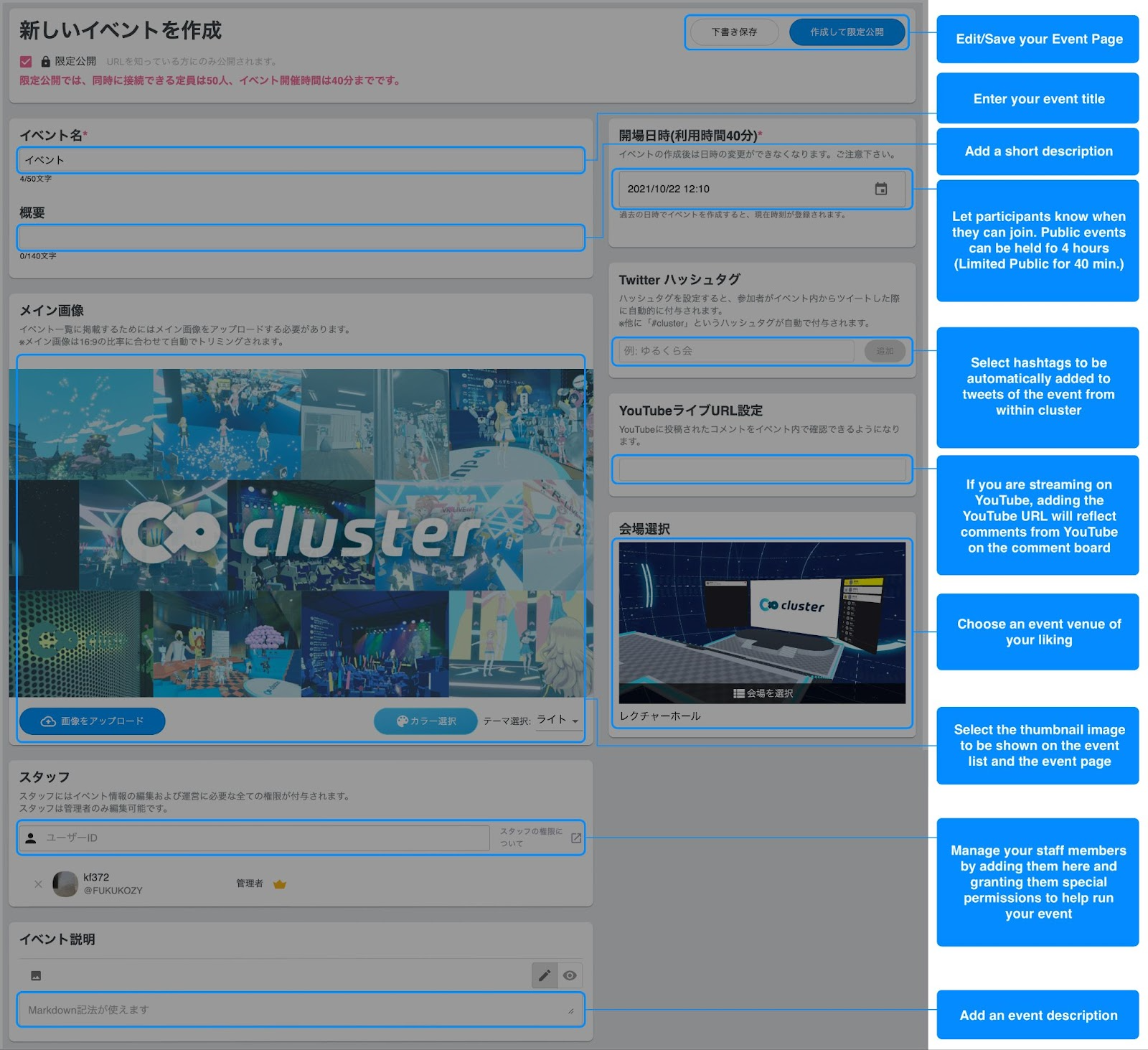 If you click the Select Venue button, the following window will open. Here, you can select your event venue. This can be a world you created/uploaded, an official Cluster venue, or worlds by other creators (who have given permission for their worlds to be used for events.)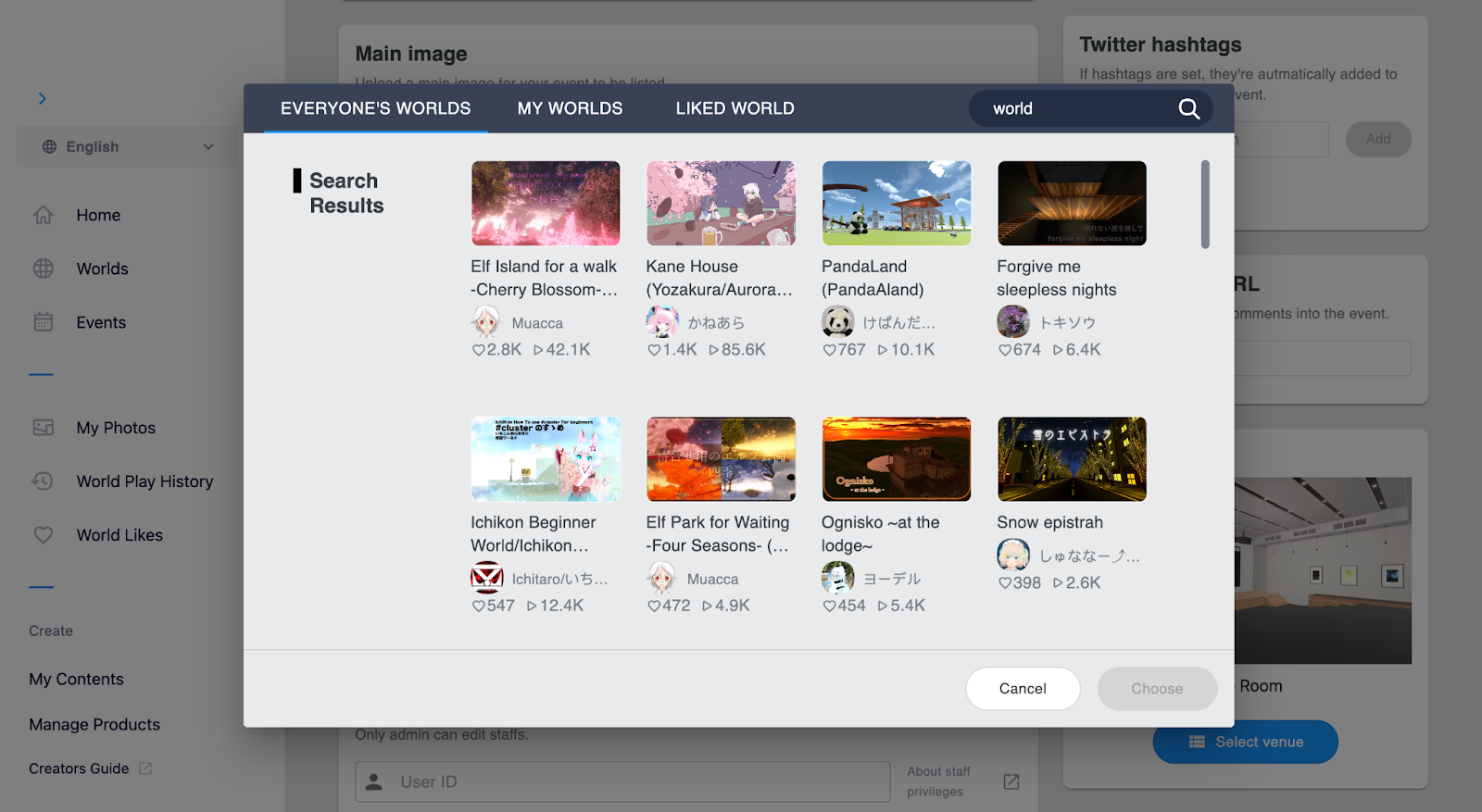 3. Sharing your Event Page
Once you create your Event Page, you can share the URL on other social media pages, such as Twitter.
If you've selected Limited Published, only people with the URL will be able to join your event. If you've selected Public, your new Event Page will also be visible in the list of events on Cluster's webpage or app - users can, of course, join from here. Sharing on social media is easy if you use the social media buttons (for Twitter and Facebook).

4. Editing your Event Page
You can still edit your Event Page after having created (published) it. Simply go to the "Open event edit page", the first in the features for staff.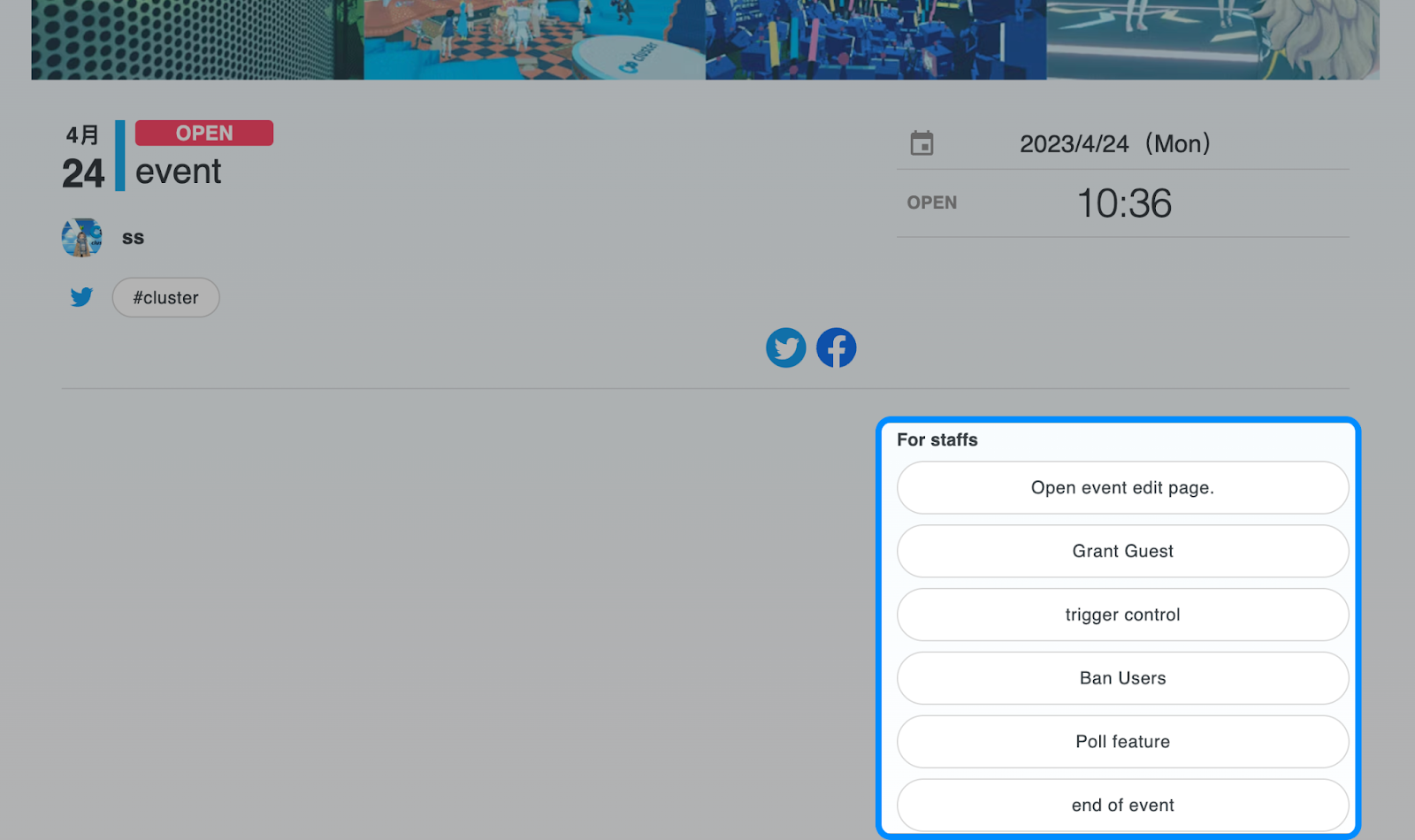 Every section of the Event Page can be edited, except for the opening date and time. To change the date or time, you need to set the event to Limited Published (to make sure participants do not mistakenly come at the wrong time), and create a new Event Page.
You can also register the music you are using in your event. If they are managed by copyright management organizations such as JASRAC and NexTone and you should register them here.
5. Granting Guest Permissions
One of the features available for staff is to Grant Guest permission. By adding other users by their user ID, you can give special permissions to these participants.
Guests are more limited than staff, but it can be helpful if you would like to grant them temporary access to the microphone or invite them on stage. This setting can also be done from the cluster app.